Discussion Starter
•
#121
•
Well, day #4 this week at the garage.
Part of why I've only been working on the GT one day a month is because it takes me forever to make decisions. Especially co-dependent decisions. I hem and haw, and I have to build mental momentum where I understand what I want to do. I have to juggle as much of the details as I can in my head. When I get to the garage at 9pm, and can only grind for maybe 30 minutes, I'm never ready, so I get roadblocked by not being able to grind, and not being able to proceed and figure out the next thing without even exploratory grinding.
I hate tackling things piecemeal. I like to binge-work on projects. When I start working, it's normal for me to not eat or sleep for the first day or two and just work day and night. Having the habit of going to the shop and only wasting an hour catching up to yesterday's momentum has been working great. Got more done this week than I have since the summer combined.
Yesterday night, did a bunch of chopping. It was easy, still had mental momentum so I just showed up and grabbed the grinder.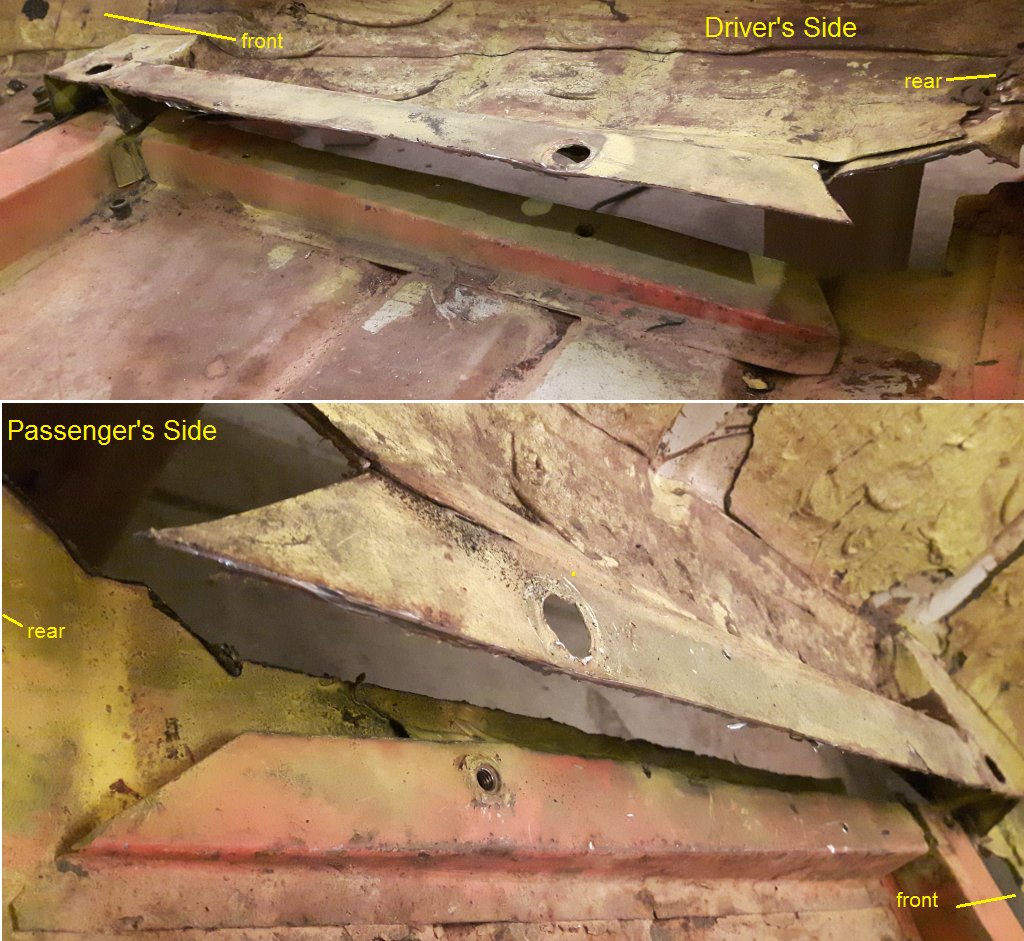 Hit a snag, and maybe why panels weren't nesting well before. The floorpan gutters/strengthening grooves need to nest, but on the lower pan (orange) it still had the edge of the trans tunnel welded to it. No room to get a grinder between them anymore, tin snips to the rescue.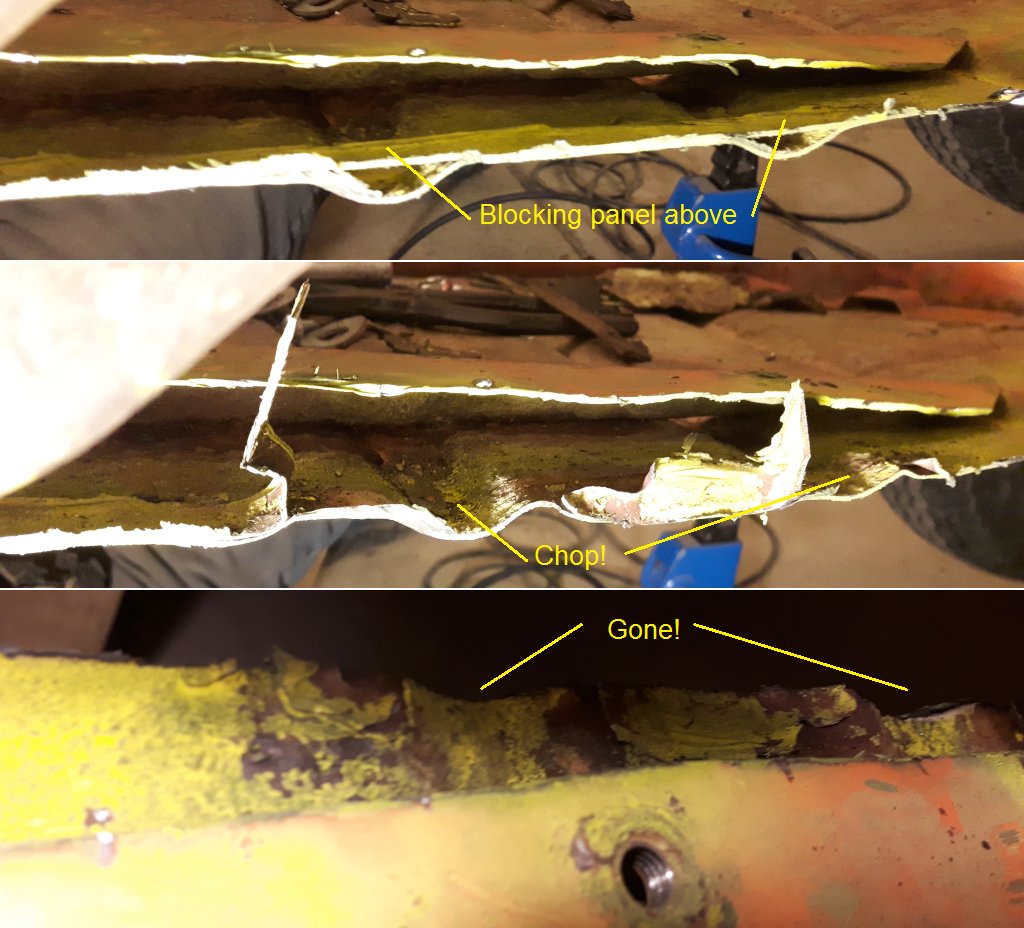 You know when you try to order one perfect pizza for multiple people, then just give up and order everyone their own?
As Keith suggested, I'm both rosette welding and seam welding. It's a lot of time and definitely overkill for the seats (good practice for firewall), but "solve a problem" time moves at 2% the speed of "just do the work" time. I don't think I'm exaggerating, a lot of work to do with no decisions to be made is 50x faster than having to figure something out. Doug probably recalls I'd sit around, hem and haw, get frustrated and wonder why I even started, consult for advice... and when I picked a path, boom. Go go go, turning grinder discs into lung disease until there's something new to figure out.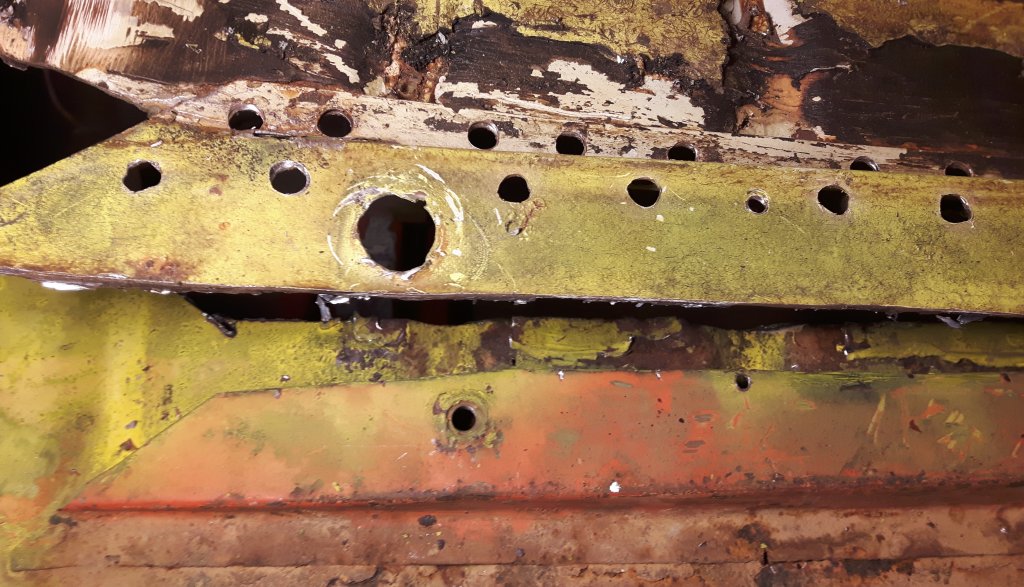 Another roadblock, the '70 (yellow) and the '73 (? orange) seem to have different seat rail heights for the longitudinal rails. The back end (where the rear seat bolts is) is tight, but the front has 1/4" gap. Back a few month ago when I documented this I figured I just had metal blocking the path so they wouldn't nest. But even with the metal gone, there's still 1/4" difference.

You could shove a pencil between the overlapping seat rails. I don't think they're bent, they're actually different vertical heights for the rails. Maybe.
My solution was to drill an excessive amount of screw holes (what's a little more welding?), bash it with a hammer as I go, and stop caring because none of it is critical. It'll be plenty strong. All 4 seat bolts are the same height, it's just in between them where the rails aren't the same height. Doesn't matter.

Chopped as planned and a few sheet metal screws to start anchoring it.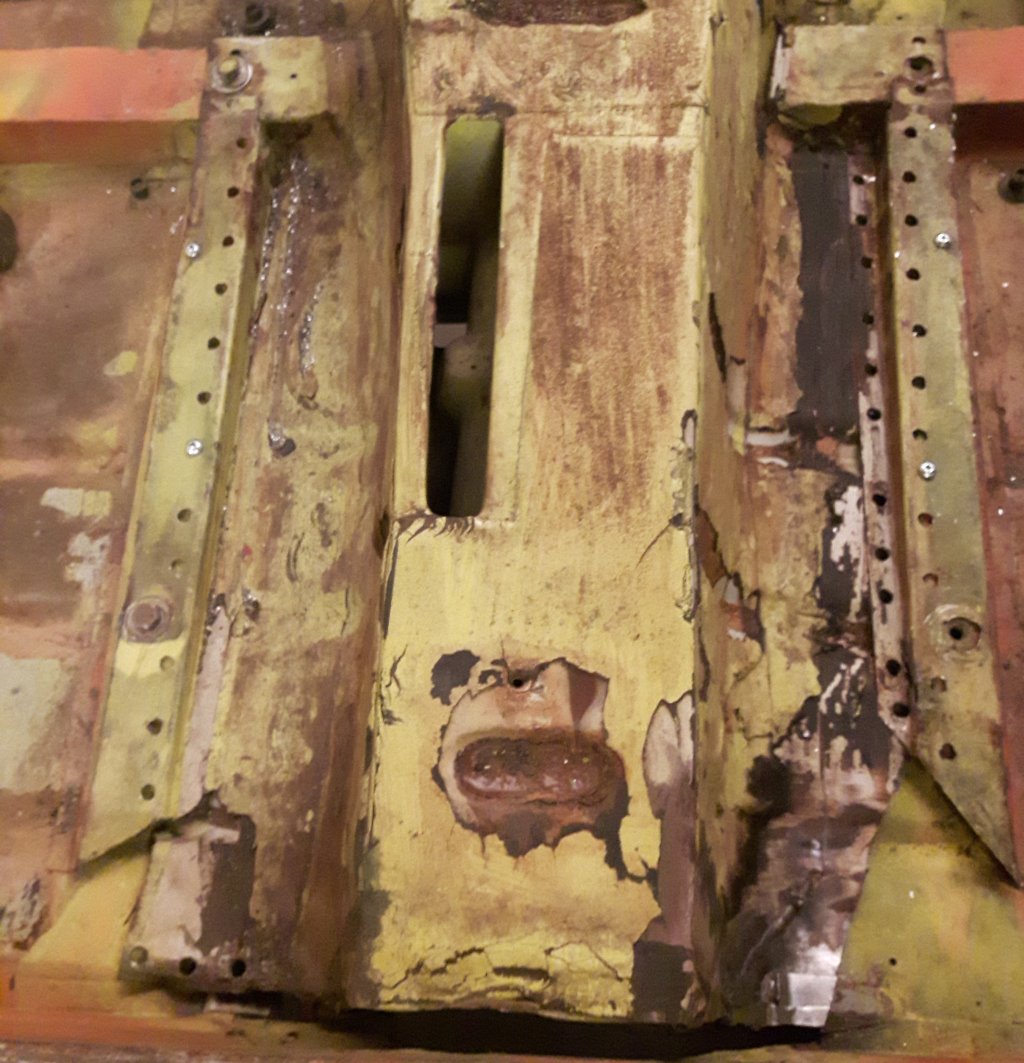 The passenger side has two rows of rosette holes. That's because the driver's side I got lazy and cut the orange straight through the seat rail and the floorpan last fall. Don't care, won't matter. Moving on.
End of yesterday night.