Discussion Starter
•
#141
•
First thing I did with the body dolly up, was want to inspect the rear assembly. Since I'm borrowing someone else's garage as a shop, conditional on them not needing it, I was never comfortable taking the rear off because it would be stranded on the jackstands. Now that it's on the body dolly it's not as big of a deal. I could at least roll it to the driveway on 5 minutes notice.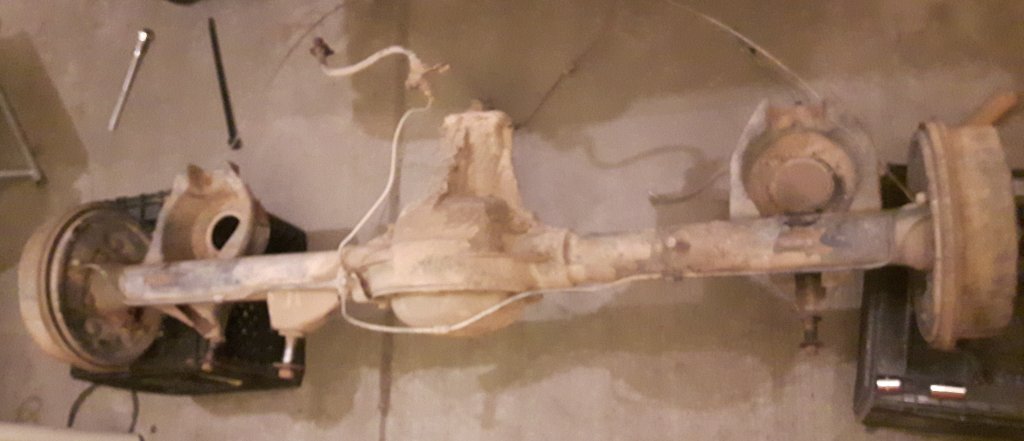 I had been spraying insides and outsides of all suspension bolts at start and end of every night for over a week so I figured they'd all be loose. They were. Except for one...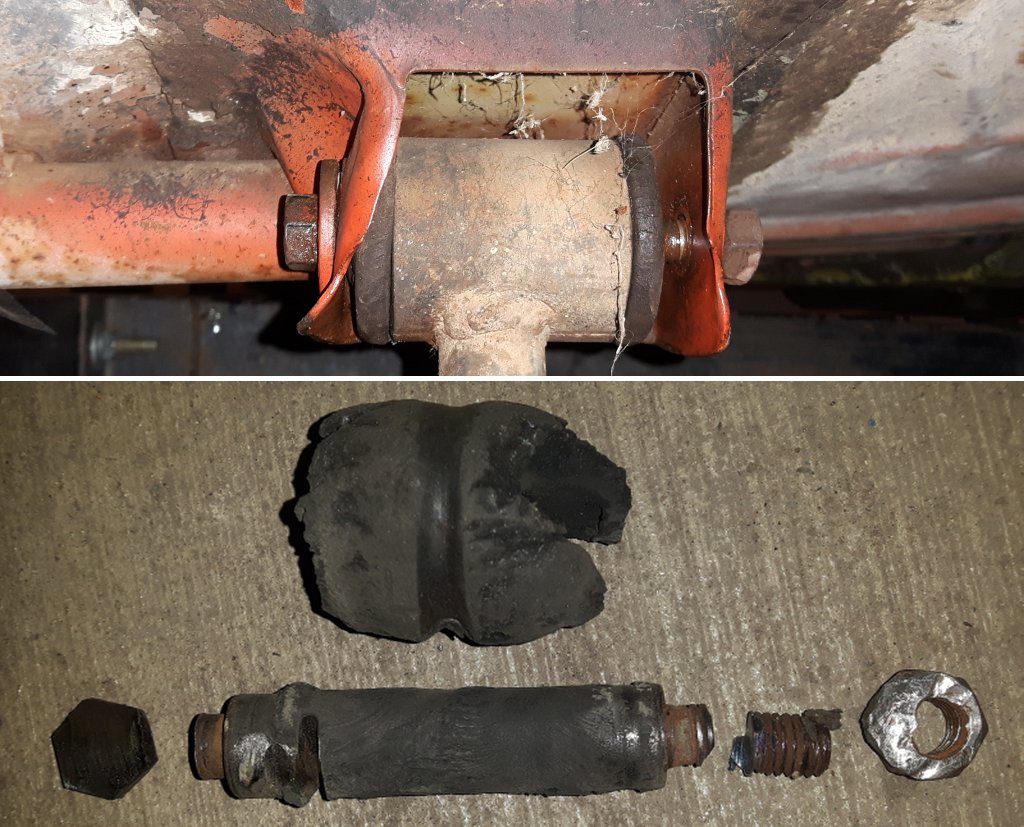 Oh the nut came off easy enough. And the bolt side spun on its own just fine. But the bolt would not come out.
I worked it back and forth. I spun it. I slipped the nut back on and sledgehammered it until the mounting bracket was bent like you can see in the photo above and the nut was mashed like a scoop of ice cream. The bolt would just not separate from the control arm.
Eventually I just spun it with the impact wrench until it started smoking, but all that did was tear the sleeve away from the rubber.
I ended up having to take an angle grinder to it 4 times to chop it down.
I presume the whole rubber and sleeve are pressed into the control arm, but, no matter, since I had an extra set from the other vehicle.
Keith had mentioned that since the torque tube was off, the diff was exposed (badly, caked with mud) and would need disassembly. Luckily I still had the diff and torque tube attached to the original (yellow) rear assembly, so I'm able to swap them if I so choose. I'm not sure how to identify which might be a better candidate (Keith has mentioned that later years have superior seals), but for now, one already has the torque tube on it.
We also had some idle guesses about what components weighed, so, I took liberty of weighing them the next night: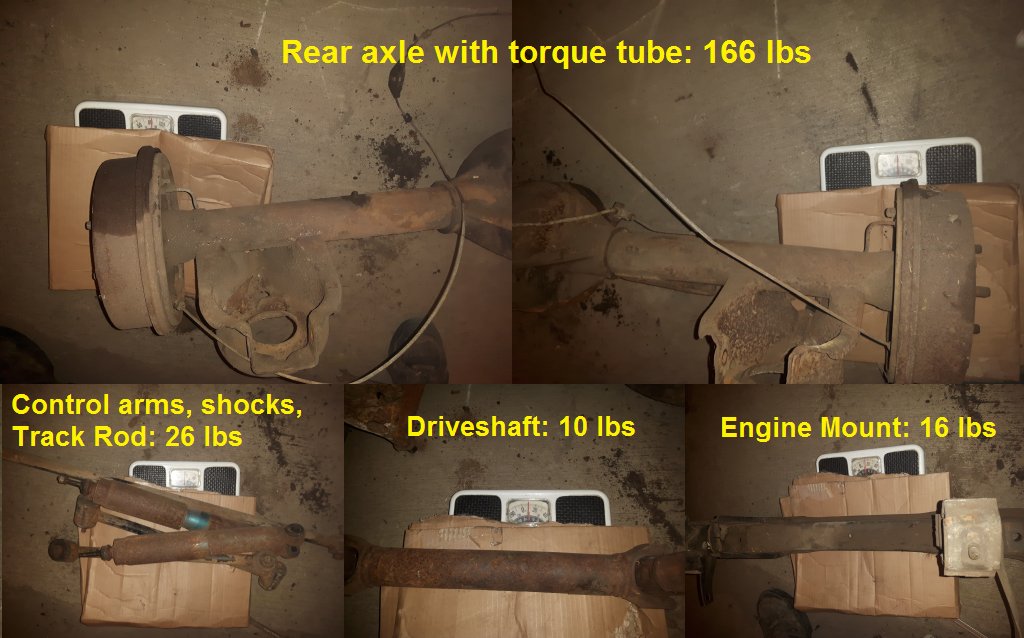 Rear Axle Assembly Weight (no rims): 140 lbs
Torque Tube assembly Weight: 26 lbs
Control arms, Shocks, Track Rod Weight: 18 lbs
Total rear assembly weight minus springs: 184 lbs (plus a few bolts I missed).
Driveshaft weight: 10 lbs
Engine Mount weight: 16 lbs
... if anyone ever searches for those terms in the future, hopefully that helps. (My bathroom scale has crappy precision, don't take it as gospel).
...
As I was stumped for quiet things to work on, 2 filler tasks had been occupying my time for the last month:
1 - Pick away with a screwdriver at the rubber sheet covering the trans tunnel.
2 - Clean up tools and vacuum out the weld/grinding dust.
I was actually stalling for time, because someone had told me an easy way to remove it was to use dry ice to superfreeze the rubber, then smash it with a hammer. Another bodywork guy had mentioned that it gets cold enough in Canada to just let it sit outside on a cold night, and then come smash it just before dawn.
I didn't want to take the car off the jackstands and push it outside until I was done welding, but then the obvious hit me: "Just open the garage door, point a furnace fan underneath the car, and kill a half hour in the driveway with the car running until the Opel is all frozen."
So I checked the weather and it looked like we weren't going to get any more cold (enough) snaps this year.
Abandoning ship I bought a wire cup for the grinder and stripped it off manually in a few hours. Feels dumb that I waited weeks for cold weather just to avoid a few hours work. It's not that much work.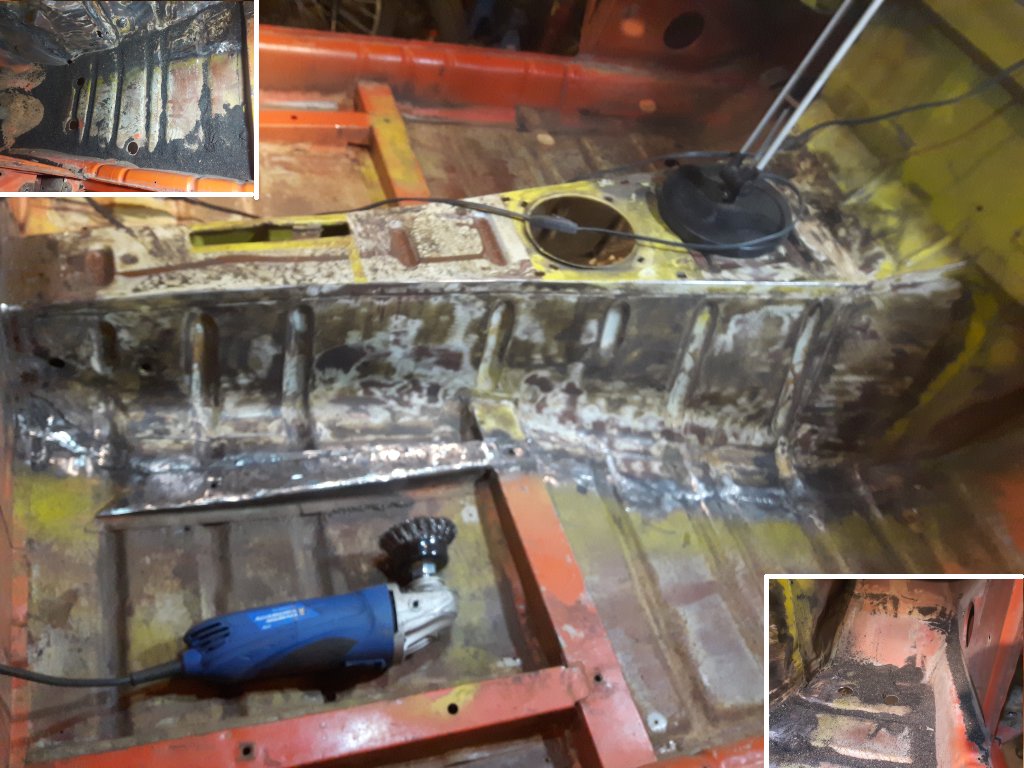 I'll come back and finish it up with a paint scuffer later. I just needed to check for holes, since I noticed a pinhole just below the headlight lever. Again, my goal being to not be welding in the trans tunnel anymore so I could rig up the driveline.
Umm... hmm... hang on, I'd lost the pinhole I spotted earlier...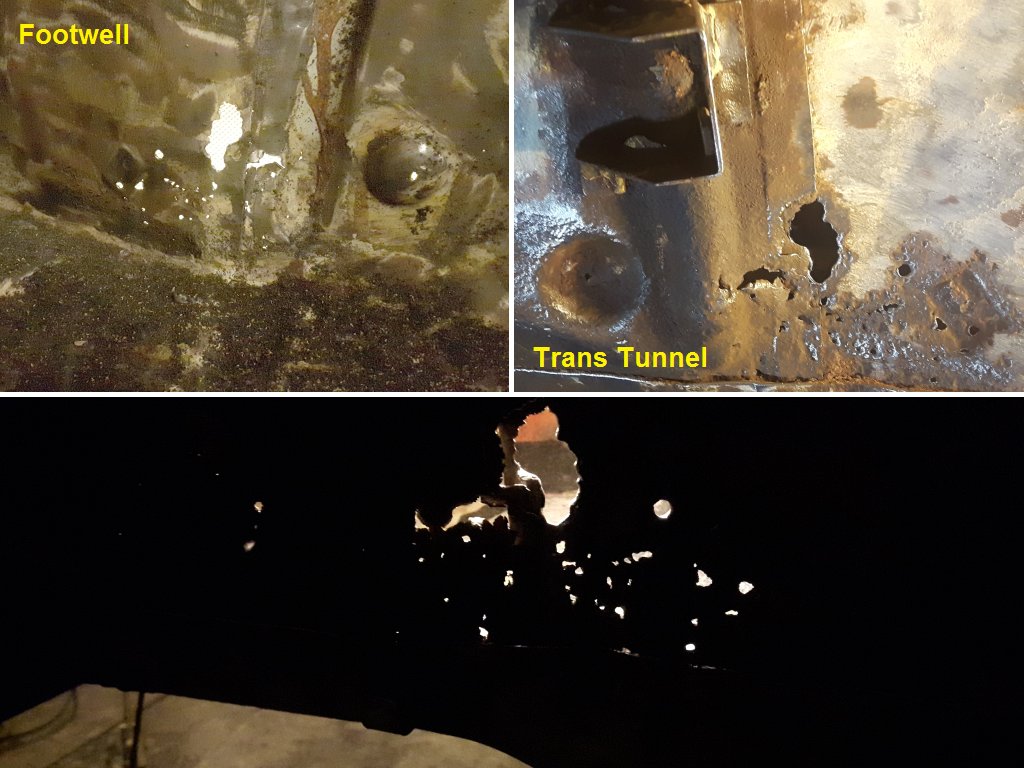 Uhh, a bit like Clever Tom and the Leprechaun, minus the red ribbons.
I'd run out of easy stuff. The lower, flat, and long weld seams were done. I figured the next thing I do should the be the strongest and the easiest to line up. That was the heater box. I left lots of metal (the box is made of thicker sheet) and lots of overlap when I first cut it out, so I knew it was located well.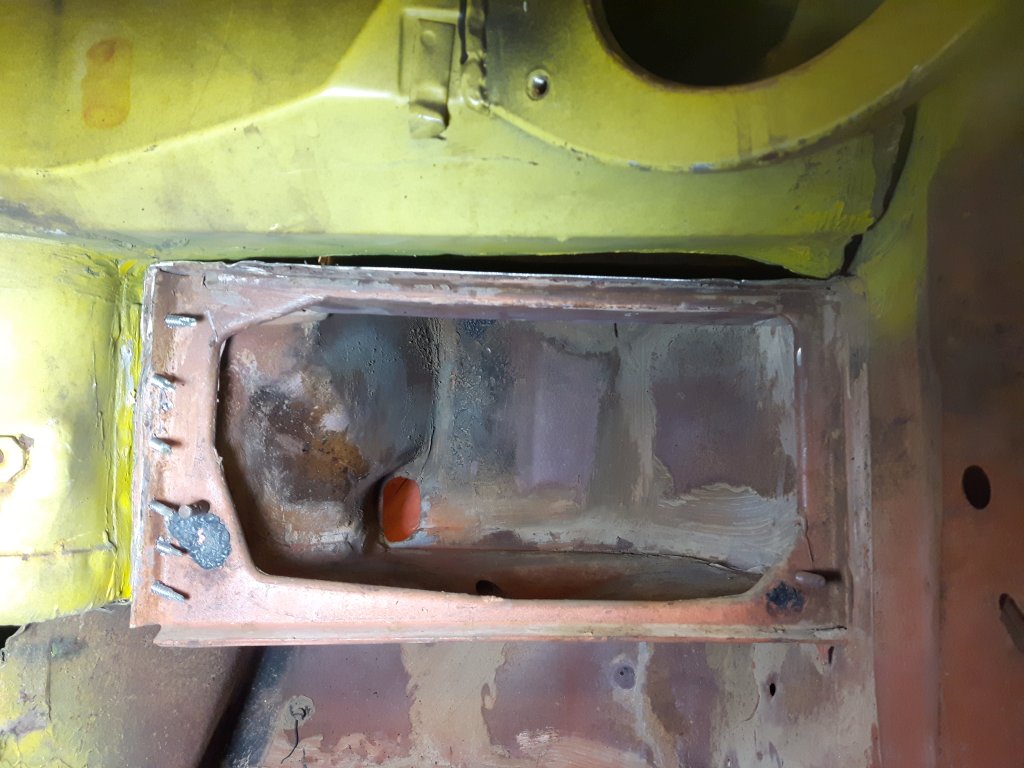 Welding went mostly okay, it's hard to reach there. You have to lean over the rockers, around the doorframe a bit, and then forward and then sideways.
Also, these were my first inside corners on the vehicle. The grinder wheel can't reach every area on an inside corner. I bought the cheapest die grinding burrs (rotary files), a $40 8-pack, and they were all junk. Suitable for aluminum maybe. I'd get maybe 20 seconds of grinding out of them before they'd dull. More on that later.
In general, it was a treat to not burn through the second I touched the trigger, if all metal on the car was this thick I'd be fine.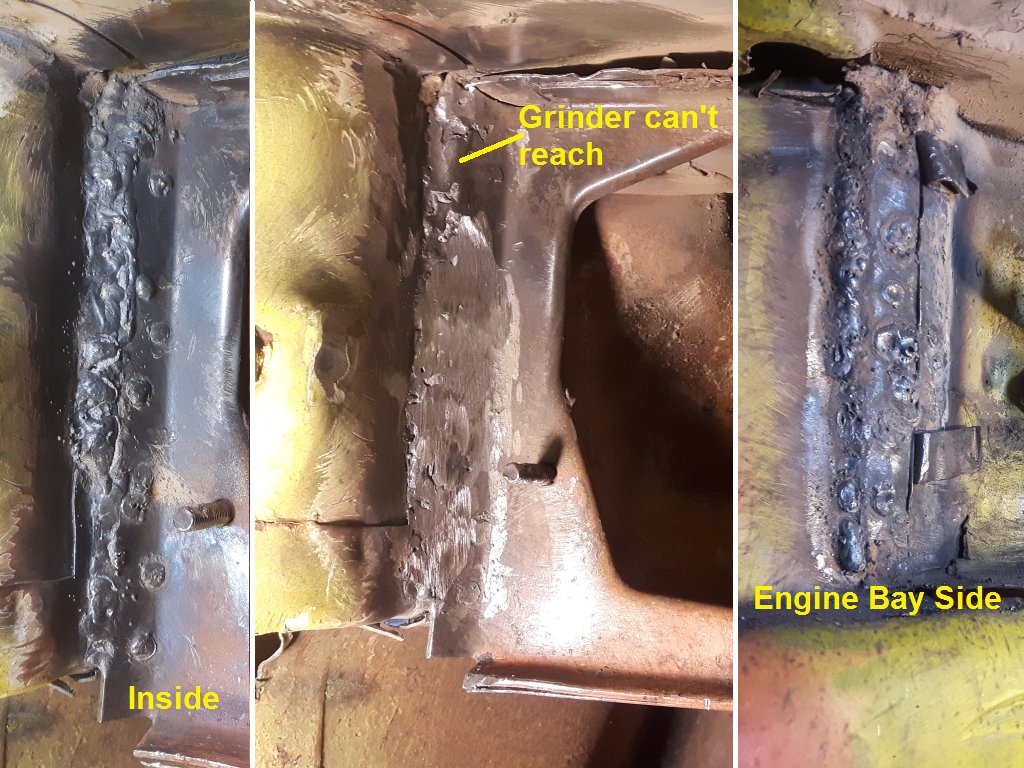 Now that the side of the passenger firewall was anchored at the correct height and width, I could do the long seam.
I originally thought I'd left far too much material here on top, but once I actually sunk the tail end of the trans tunnel down where it needed to be that last inch, it really pulled the dash area back. I was left with butted metal 1/2 way up and even a gap at the top.
Frustrating weld. Get the weld done in about 20 minutes, patiently, 1/8th inch at a time, then an extra stringer on top to make sure it's not just sitting on the surface. Even then, like 15 pinholes. Kept climbing into the engine bay and back to try to fix them. Spent a whole night just on fixing some of this seam before giving up with trying to grind flush.