·
Just Some Dude in Jersey
Discussion Starter
•
#1
•
Okay, you Southern Opelers, tell us about your fascination with Pokeweed.
Pokeweed, (Phytolacca americana), also called pokeberry, poke, or American pokeweed, strong-smelling plant with a poisonous root resembling that of a horseradish. Pokeweed is native to wet or sandy areas of eastern North America.
My web browser started off my morning with an article about southern folk really liking to eat a poisonous plant called pokeweed. It then went on to describe it's appearance and the bell I keep in my head went off. Hey, that sounds like that plant I've encountered ever since I was a kid that would randomly sprout up somewhere, grow to an enormous size, and then make lots of fascinating-to-a-kid berries like mini grapes. When you squish them they were like reddish/purple ink. I never knew what it was called, and no one else did, so I've always called it poisonberry because that's what all the adults said about it: "Don't eat them! They're poisonous!". Today at work I asked a random assortment of folks if they knew what pokeweed was and described the plant. None of them ever heard about pokeweed, but everyone knew what weed bush I was talking about just from my description.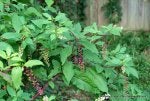 So I'm wondering how this plant that is supposedly popular down South is virtually unknown and very poorly regarded here in
southern
New Jersey, which is a very farmy part of the State and ain't all that far from "The South". I even saw a whole bunch of ads offering seeds of the stuff.
I didn't have time to read the whole thing, but it said that the leaves are slightly less poisonous and they are eaten and that
you have to boil them THREE TIMES
to reduce their toxicity, "but it's worth it".
Boiled 3 freakin' times! It better taste like filet mignon for me to boil a poisonous weed 3 times before I can eat it!
Okay, Southern boys, tell us all y'all know about pokeweed please.
:yup: